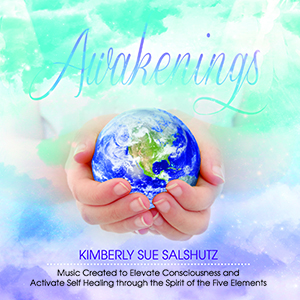 Music is the universal language that has the capacity to affect people of all ages, even the unborn in womb time. Music creates long lasting memories of special times in our lives. We all have songs that elevate us to happy times, songs that helped us through some of our most painful experiences or ones that bring us to a time that we have long forgotten. Recent research from the Evidence-Based Complementary and Alternative Medicine journal suggests that music therapy reduces pain, improves mood, reduces spiritual distress and gives patients a feeling of possibility.
I was fortunate enough to collaborate with talented composer and musician Robert Porembski (www.robertporembskimusic.com.) Thank you Robert, for this project would not have been possible without your musical skills and gifts!
Awakenings, is part of a larger healing system soon to be released in Fall 2015. While working with my channeled ascension holograms of light, I was guided to create a musical compilation that would have a healing effect upon ones physical body and uplift consciousness as one listens to the music!
The guidance and inspiration was to create music therapy that captured the vibration of the ascension holograms. Each hologram is connected to Earth's creation, through the spirit of the 5 elements. These alchemical elements are wood, fire, earth, metal and water. Each song expresses a unique vibration signature of these elements and rhythms of the Pythagoras music scales. My vocals with healing invocations are captured in live audio and subliminal messages throughout all tracks. My daughters' childlike laughter is captured at the end of the Earth track, Returning Home.

Click Here to Combo buy Dream Time And Awakening albums for Just $35